---
PORTWOLF'S MANIFESTO tratto da http://www.portwolf.com/cavernf.htm
---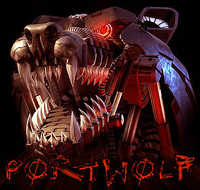 We fight without hate, we fight without size,
without color, without skin, without hands, without eyes.
We don't fight for fun, we don't fight for blood, we dont fight to wound you, for brusies or cuts.
Were not here to hurt you, but you hate us noneless.
But outsmart you i did, one thing i'll confess.
Through the phone lines my gateway to your lies, and plans.
But when I display what i've learned my words are all banned.
Black helicopters came and my friends were all canned.
But you didn't get me so hear out my demand.
The real hackers are back now, hide your head in the sand.
Now all the world will know of your devious plan.
So now that I'm wanted in 48 states.
Cause I found a little oopsie made by Bill Gates.
For you all, on this machine, I have written your fates.
I AM PORTWOLF AND THIS IS MY MANIFESTO.
WELCOME TO MY WORLD.
PLEASE KEEP YOUR SEATS IN THE LOCKED AND UPRIGHT POSITIONS.
[ Top ]